Residential Lawn & Landscape
We offer a wide range of residential landscaping services to Johnson, Jackson and Cass counties, as well as surrounding surrounding areas, available throughout the year. Lawn care and landscaping are a snap with Outdoor Solutions, from design to ongoing maintenance. Get in touch today to learn how we keep homes beautiful and set up a free consultation today!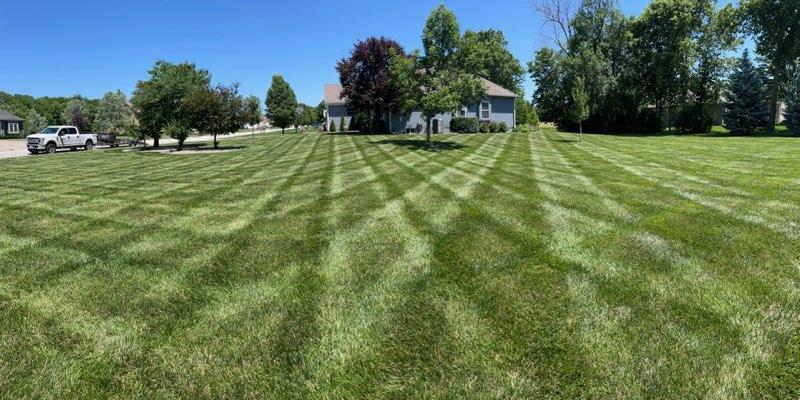 Mow, Trim and Blow
Weekly Service
Vacation Service
As Needed
6 Step Lawn Applications
Step 1: Crabgrass Preventer plus  Controlled Release Fertilizer
Step 2: Broadleaf Weed Control
Step 3: Crabgrass Preventer 2nd Application Plus Spot Spray For Broadleaf Weeds
Step 4: Grub Control plus Spot Spray for Broadleaf Weeds
Step 5: Fall Fertilizer plus Spot Spray for Broadleaf Weeds
Step 6: Winter Fertilizer
Optional Applications:

Nutsedge Control
Post Emergent Weed Control
Insect Control
Landscape Bed Maintenance
Weekly Service, Monthly Service or a Custom Service Just For Your Property
Shrub and Tree Pruning
This service is recommended for twice a year or a Custom Service Just For Your Property
Shrub and Tree Applications
Emerald Ash Bore, this application is applied once a year for season long control
Insect Control, a Pre and Post application can be applied to control unwanted insects
Disease Control, a Pre and Post application can be applied to control unwanted diseases
Aeration
Aeration should be done at least once a year in the fall but can also be done in the spring to provide better results; aeration will give your existing lawn a boost by taking core plugs from the ground and allowing air, water and fertilizer to better penetrate the grass root zone and reduce thatch
Seeding
Our slit seeder machine will create deep groves in the ground and mechanically place the grass seed in the soil for better results and a new lawn
Mulch
A variety of colors can be applied to your landscape beds anytime throughout the year; mulch will improve the overall look of your landscape, keep moisture in the ground for the plants and help with weed control
Shrub and Tree Fertilizing
Fertilizer will be applied to any Shrub or Tree to improve overall health
Spring and Fall Cleanup
Pick up all trash, leaves and other debris on the property and in the landscape beds to improve the overall landscape
Seasonal Color
A wide variety of seasonal color can be added throughout the season to accentuate the overall landscape and property
Landscape Design and Installation
A customer designed landscape plan can be designed and installed for your project
Get Free Estimate
We will make your experience with our company stand out from the others. Feel free to contact us if you have any immediate needs or questions regarding our services.
EMAIL
office@OutdoorSolutionsKc.com